Chocolates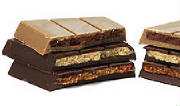 New Chocolate: Righteously Raw
Raw, Organic, Kosher, Vegan, Nut/Gluten/Soy/Milk free, and tastes good at that!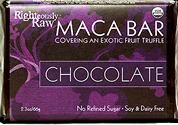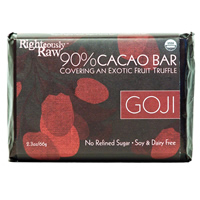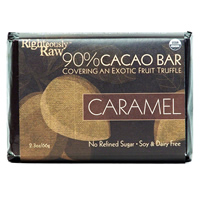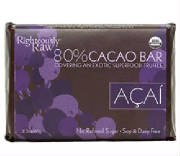 * Why Raw? Well, to begin with, I personnaly prefer the taste of raw chocolate to the roasted one. This brand has no refined sugar either and uses agave nectar instead. This does not distract your taste buds from the joy ride that 80-90% chocolate provides:)
* Chocolate (theobroma cacao) is one of the leading antioxidant rich substances on the planet known today. It is also an abundant source of minerals like iron and magnesium. When the cacao beans are roasted, these nutritional elements are damaged and may not be absorbed by the body at their full potential.
* Righteously Raw Chocolates are based in sunny California, and their four flavors are:
Goji Berry - not only delishious, but good for your energy level and eyesight.
Acai Berry - literally superfood, known as having the highest level of antioxidants of any berry.
Caramel bar - no milk here either, but a decadent mix of sub-tropical lucuma fruit and dates. Olga's favorite!
Maca Bar - a taste you've never experienced before (unless you are familiar with the Maca root, a super-food found in the high Andes). Maca is rich in calcium, magnesium, and iron and is also known for it's ability to increase strength, rebuild a weak immune system, and enhance libido. Yes!
Fran's Chocolate

As is often the case, best finds are Customer's suggestions.
These delightful caramel creations are Seattle's own and [according to NBC's Inside the Obama White House], the President's favorites.
The collection features award-winning Gray Sea Salt dark Chocolate and Smoked Salt Milk Chocolate Caramels. These are a harmonious blend of complex flavors of organic ingredients - rich smooth chocolate, soft buttery caramel and the unexpected boldness of the gray and smoked salt.
Oh my!
T-SPOT also carries Fran's chocolate covered Ginger and Almond Trios, and we have plans to add Fran's bars to our extensive assortment.

Bacon-Chocolate Chip-Pancake-Mix. Do we need to say more?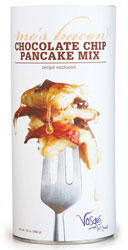 John Kelly's Fudge Truffles from Los Angeles - with sea salt!
These little pillows of goodness won the Gold Award for Outstanding Chocolate this year, and deservingly so. Sea salt seems to be the latest trend in gourmet chocolate, and Oh Man, am I glad it is! Salt-less flavors we have include Walnut, Mint, Raspberry, Orange and more.

TCHO Chocolates:

All of these are just dark, not flavored, but the cacao beans, like wine grapes, have inherent aromatic properties: citrus, fruity, nutty etc. I have really enjoyed tasting and comparing them, and I CAN taste the difference!

Cowgirl Chocolates

From Moscow, Idaho, in yee-haw flavors like: White Chocolate Lemonade, Sarsaparilla, Spicy Dark Huckleberry, Dark lavender, Spicy Orange Espresso, Spicy Mint and SPICY TEQUILLA!

A library of 9 Mini Exotic Bars

from Vosges Chocolate kitchens in Chicago.

Makes a wonderful gift and lets you try a handful of flavors all at once. Each Gift Set includes nine 0.5 oz. mini bars:

Red Fire, Black Pearl, Gianduja, Naga, Creole, Barcelona, Oaxaca, Woolloomooloo & Matcha.

Absolute favorite of everyone working at T-SPOT:

ASKINOSIE pure dark Chocolate

And when we say pure we mean it. Just count the ingredients: Cocoa beans - one; Cocoa Butter - two; Cane juice [a.k.a. sugar] - three. And that is IT.

No soy lecitin to emulcify, no vanilla to distract you from the point. And the point is: There is no better chocolate as far as I am concerned.

The bars range from 70% to 75% to 77% darkness and are most definitely single origin, organic and fair trade.

You can read about Askinosie's philosophy and community involvement right here [click on Farmers and their Stake in the Outcome]