New Chocolate: Righteously Raw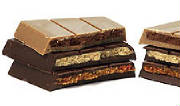 Raw, Organic, Kosher, Vegan, Nut/Gluten/Soy/Milk free, and tastes good at that!
* Why Raw? Well, to begin with, I personnaly prefer the taste of raw chocolate to the roasted one. This does not distract your taste buds from the joy ride that 80-90% chocolate provides :)
* Chocolate is one of the leading antioxidant rich substances on the planet known today. It is also an abundant source of minerals like iron and magnesium. When the cacao beans are roasted, the good stuff may not be absorbed by the body at its full potential.
* Righteously Raw Chocolates" four flavors are :
Goji Berry - not only delicious, but good for your energy level and eyesight.
Acai Berry - literally superfood, known as having the highest level of antioxidants of any berry.
Caramel bar - no milk here either, but a decadent mix of sub-tropical lucuma fruit and dates. Olga's favorite!
Maca Bar - a taste you've never experienced before (unless you are familiar with the Maca root, a super-food found in the high Andes). Maca is rich in calcium, magnesium and iron and is also known for it's ability to increase strength, rebuild a weak immune system, and enhance libido. Yes!
YUM!